Theatre
MISERY by William Goldman, based on Stephen King's novel
A uniquely mysterious thriller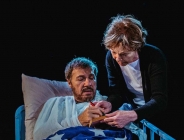 Based on Stephen King's bestseller, the mysterious horror thriller MISERY, in its theatrical adaptation by William Goldman, at the stage of the theater Ilissia Volanakis, since 24 January, directed by Takis Tzamargias and translated by Adonis Galeos.
It is the story of a successful writer, Paul Shelton, who is trapped at the home of his greatest admirer Annie Willows who saves him after a serious car accident. She reads secretly the manuscript of Shelton's new novel, where she discovers that the author "kills" his heroine, Misery. She forces him to bring her back to life, in his next book. Paul realizes the paranoia of Annie and understands that she has no intention to liberate him. Thus, he begins writing the book, knowing that his life is in a deadly risk, if he doesn't meet with Annie' deadlines.
Starring Reni Pittaki in the role of Anna and Lazaros Georgakopoulos in the role of Paul.
In the film version of Misery (1990) starring James Caan and Kathie Bates. K.Bates won the Academy Award for Best Actress.
THE ARTBASSADOR has licensed the Greek production, on behalf of the playwright William Goldman and his Agent Creative Artists Agency (www.caa.com).