Theatre
MOLLY SWEENEY by Brian Friel
An allegory inspired by a true story. Since 18 October 2017 at the Theatre of Neos Kosmos.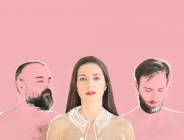 The new extraordinary production of the PYR theatre group at the theatre of Neos Kosmos. The simple human story of Molly Sweeney and her touching struggle to keep her identity under adverse conditions.
The playwright, the Irish Brian Friel, is one of the most important playwrights of the modern theatre, awarded with Olivier and Tony prizes, for his work "Dancing at Lughnasa". He is inspired by a true story and touches the darkest corners of the human soul with bold sincerity and unexpected humor, through three parallel monologues: blind Molly, her husband Frank and ophthalmologist Rice, who takes over her surgery, in order to enable her to regain her vision after 35 years, because he considers that "what does she have to lose?"
Molly Sweeney is presented on the Greek stage, directed by Io Voulgarakis and translated by Argyris Xafis. The roles are interpreted by Despina Kourti, Argyris Xafis and Dimitris Georgiades.
The Greek audience embraced the work with excellent reviews:
A touching story! I could not stop crying and laughing - it was no longer a theatre, it was an experience.
A masterpiece in one of the finest works I've ever seen!
The subject of blindness and identity in all its grandeur, at this tiny stage.
A wonderful text! All three were wonderful!!!
THE ARTBASSADOR has licensed the Greek production, on behalf of the ESTATE OF BRIAN FRIEL, in care of THE AGENCY (LONDON) LTD (http://theagency.co.uk/)