Music
MUSIC FOR THE THEATRE
08 October 2020- 09 October 2020
CONCERTS OF THE CYPRUS SYMPHONY ORCHESTRA AT NICOSIA AND PAFOS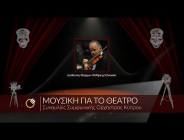 The Cyprus Symphony Orchestra presents a special series of concerts with music for theatre in Nicosia and Paphos, on 8 and 9 October 2020. In this sparkling program Wolfgang Schroder, concertmaster of CYSO, is the music director, also performing with the orchestra the following works:
Three selected Domenico Scarlatti's keyboard sonatas, in a magnificent version by contemporary British composer John Woolrich, highlighting the spirit and uniqueness of Scarlatti's music.
The Overture to the play "A Midsummer Night's Dream", composed by Mendelssohn in 1826, a work that masterly portrays the play's atmosphere and fairy world. The CYSO will perform David Matthews' arrangement of the overture for ensemble of eleven players, premiered by the Nash Ensemble in March 2016.
"Music for the Theatre", by Aaron Copland, composed in 1925. Determined to create an American sound in classical music, Copland incorporated jazz sounds into his first orchestral pieces, causing a scandal in concert halls. This great work projects the rhythmic elements and harmonic melodies of jazz in the 1920s and was written for small orchestra with no specific play in mind, as one might think. As Copland pointed out: "The music seemed to suggest a certain theatrical atmosphere, so after developing the idea into five short movements, I chose the title."
The Artbassabor, provided the Orchestra with the music material of the work of Aaron Copland "Music for the Theatre"on behalf of the Publishing House BOOSEY & HAWKES UK.