Theatre
MADAME MARGUERITE by Roberto Athayde
At Neos Kosmos Theatre, since 3 October! Second run!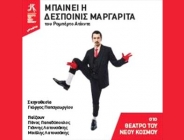 Using a classroom as its central metaphor, this searing drama, by the Brazilian playwright Roberto Athayde, is a caustic political allegory about totalitarianism which looks deeply into the heart of power.
An international classic, which thrilled audiences and critics in over 50 countries worldwide, in an absolute must see performance! Read more...
Direction : Giorgos Papageorgiou
Production : GOO THEATER COMPANY
Starring: Panos Papadopoulos, Yiannis Latousakis, Michalis Latousakis
ΤΗΕ ARTBASSADOR has licensed the Greek production, on behalf of the Agency BUREAU LITTERAIRE INTERNATIONAL, which represents Roberto Athayde's rights in this play.