Music
"GALATEA'S MYTHS"
14 July 2017- 16 July 2017
Dancecyprus presents a new-classical ballet, inspired by Galatea's myth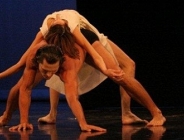 Dancecyprus proudly presents a new-classical ballet, choreographed by Davide Bombana, with more than 20 dancers from Cyprus and Italy, inspired by Galatea's myth which is closely connected with the history of Pafos.
The sculptor Pygmalion who fell in love with his creation, Galatea's statue, begged the goddess Venus to let them get together, by giving life to Galatea. Goddess Venus finally gave in to his pleadings and the result was the birth of Pafos.
The choreographer used music by the Estonian prizewinning composer ARVO PART. The Cyprus Chamber Orchestra and Philip Kohnke, lead percussionist, from the Symphony Orchestra of Staatsoper Hannover are conducted by MO Alkis Baltas.
Performances on:
14 & 15 July 2017 in Pafos - Castle Square and
16 July 2017 in Limassol – Rialto Theater
The following works of the composer will be heard:
LA SINDONE FOR ORCHESTRA
SARAH WAS NINETY YEARS OLD
FESTINA LENTE FOR STRINGS AND HARP
FUR LENNART IN MEMORIAM
LAMENTATE FOR PIANO AND ORCHESTRA
ALINA
FRATRES FOR STRING ORCHESTRA AND PERCUSSIONS
IN MEMORY OF B. BRITTEN FOR STRING ORCHESTRA AND BELL
MEIN WEG FOR 14 STRINGS AND PERCUSSIONS
SUMMA FOR STRING QUARTET
The Artbassador, granted the license for the use of Arvo Part's music at the choreography and provided the music material of the works, on behalf of the Publishing House UNIVERSAL EDITION AG AUSTRIA.