Theatre
SHORT STORIES by Raymond Carver
At Studio Mavromichali, since 4 May!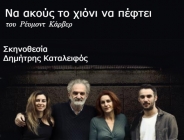 "Βoxes, Intimacy, Beginners, Why Dont You Dance, Gazebo,The Fling".
Six short stories about the everyday lives and problems of ordinary people who suffer due to broken marriages, financial problems, failed careers and their own personal impasses, while always trying to understand "What we talk about when we talk about love"…
Hailed as the "American Chekhov" by the Times Literary Supplement, Raymond Carver is the most popular and influential American short-story writer since Ernest Hemingway. His works have been adapted to film and translated into more than twenty languages, enjoying huge international appeal.
Translation: Dimitris Katalifos-Stella Krouska
Direction : Dimitris Katalifos
Production: Studio Mavrohmihali
Starring : Dimitris Katalifos, Stella Krouska, Vasilina Katerini, Dimitris Tsigrimanis
THE ARTBASSADOR has licensed the Greek production, on behalf of Tess Gallaher, owner of Raymond Carver's author's rights, c/o The Wylie Agency, UK.