Theatre
DA by Hugh Leonard
At Ilisia Theater, since 8 October!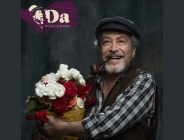 Living memories of Charlie, a successful London-based writer, who returns to his native Ireland, after the death of his adoptive father, only to find that his old man's presence is still very much alive…
Hugh Leonard's classic memory play "Da", premiered off-off-Broadway at Hudson Guild Theatre, soon transferred to the Morosco Theatre on Broadway and almost became a New York institution over its 690 performances. It won all three of the major Best Play awards in 1978, the Drama Desk, New York Drama Critics' Circle, and the Tony award.
"Irish Repertory uncorks a classic surrounded with magic [...] A wise, witty and wonderful play" -New York Post
"A humane and honest memory play with great affection and humor [...] It will make you laugh and should make you cry." - The New York Times
Translation : A.Galeos
Direction : P. Zoulias
Production : THEASIS DRASEIS POLITISMOU
THE ARTBASSADOR has licensed the Greek production, on behalf of THE ESTATE OF HUGH LEONARD, which represents H.Leonards author rights, c/o THE AGENCY, London, LTD and on behalf of the translator Adonis Galeos.