Theatre
DA by Hugh Leonard SECOND RUN
At Ilisia Theater, since 6 October!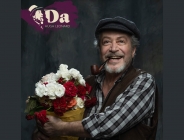 Hugh Leonard's emblematic memory play " Da " thrilled Athenian audiences and critics during the 2022-2023 theatrical season! Now it returns for a second run at Ilisia Theatre, since 6 October!
A great success in its original Broadway production and winner of the 1978 Tony Award and New York Drama Critics Circle Award for Best Play, the Drama Desk Award and the Outer Critics Circle Award for Outstanding Play, this semi-autobiographical work explores the eternal themes of death, family, memory and identity, with great affection and humor, becoming a timeless classic!
Translation: A. Galeos
Direction: P. Zoulias
Production: THEASIS DRASEIS POLITISMOU
THE ARTBASSADOR has licensed the Greek production, on behalf of THE ESTATE OF HUGH LEONARD, which represents H.Leonards author rights, c/o THE AGENCY, London, LTD and on behalf of the translator Adonis Galeos.