Theatre
PUBLIC EYE by Peter Shaffer
At National Theatre of Northern Greece, Vassiliko Theatre, since 11 Μarch!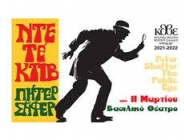 Τhe chronicle of a bizarre, silent relationship between Belinda and Julian, an eccentric detective, hired by her insanely jealous husband to trail her wherever she goes…
"The Public Eye", by the multi award winning British dramatist Sir Peter Shaffer, premiered in 1962, at the Globe Theatre, London, starring Kenneth Williams, Richard Pearson and Maggie Smith and shortly after was transferred successfully to Broadway at the Morosco Theatre.
An intriguing play about love and infidelity, which explores the changing relationships' attitudes in the 1960s, through a delightful combination of comedy, pathos, drama and unexpected twists.
Τranslation : Efi Drosou
Direction : Efi Drosou
Production : National Theatre of Northern Greece
Starring : Dimitris Diakosavvas, Thodoris Polizonis, Natassa Daliaka
THE ARTBASSADOR has licensed the Greek production of the play, on behalf of the right owners of Peter Shaffer's copyright, c/o Macnaughton Lord Representation.