Theatre
"THE MATCHMAKER" at ALIKI Theatre
The American writer's Thornton Wilder play "THE MATCHMAKER", in greek translation by Theodore Petropoulos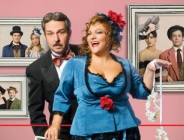 The American writer's Thornton Wilder play "THE MATCHMAKER", in greek translation by Theodore Petropoulos, under the direction of Constantinos Markoulakis, is performed with great success, at the ALIKI Theatre of the center of Athens.
The play was first staged in December 1955 on Broadway, starring Ruth Gordon, who was Nominee for the Best Actress TONY Award. It ran until February 1957, for 486 performances in total, a record for the performances of the writer's plays on Broadway. It captured both the audience and the critics, thanks to its originality, witty spirit, merry lines and hilarious complications. It was then adapted as the musical "HELLO, DOLLY", which won 10 TONY Awards, ran for 2844 performances on Broadway, having enormous commercial success.
The story is being evolved during the early 20th Century, in New York and it concerns Oratio Vandergelder, a wealthy widowed merchant, who decided to get remarried. For this purpose he employs a matchmaker, Mrs Dolly Levi. In this task, more people become involved: two Oratio's clerks, several lovely ladies and the headwaiter at an expensive restaurant. Through a series of unpredicted comic situations, everyone gets straightened out, along with Oratio…
Vicky Stavropoulou and Christos Hatzipanagiotis are starring as Dolly and Oratio, respectively.
THE ARTBASSADOR has licensed the stage presentation of the play, in greek translation, on behalf of the WILDER FAMILY Llc, c/o their Agent ALAN BRODIE REPRESENTATION Ltd.
More information about the greek performances here
Some bio information about the writer:
Thornton Wilder (1897-1975) was born in Madison of USA and belonged to a highly educated family, with great professional career in the writing field. He studied at Yale and Princeton Universities and was involved in writing of novels, plays, screenplays, opera libretti, translations, lecturing and teaching. He received Pulitzer Awards for his plays "Our Town" and "The skin of our teeth". His works continue to be read and presented worldwide.
More information about the writer and the play here