Theatre
THE DRESSER by Ronald Harwood SECOND RUN
At Tzeni Karezi Theatre, since 12 October!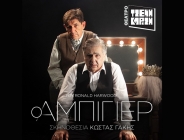 Widely regarded as one of the most acclaimed dramas of modern theatre, "The Dresser", by Ronald Harwood, was presented during the previous theatrical season, thrilling audiences and critics.
Now the absolute successfull production returns for a second run, at Tzeni Karezi Theatre, since 12 October! Read more...
A heartbreaking, masterpiece work dedicated to the passionate theatre world, in a remarkable performance we absolutely need to enjoy!
Translation: G. Blanas
Direction: K. Gakis
Production: PERFORMING ARTS & ENTERTAINMENT LTD
THE ARTBASSADOR has licensed the Greek production, on behalf of Ronald Harwood Ltd, right owner of R. Harwood's play, c/o United Agents Ltd.