Theatre
THE MAN FROM PODOLSK by Dmitry Danilov SECOND RUN
The National Theatre's of Greece production, at Kivotos Theatre, since 20 September!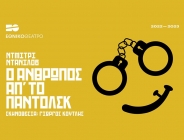 Having been succesfully presented during the 2022 theatrical period, in Panhellenic premiere by the National Theatre of Greece, this amazing production of Dmitry Danilov's compelling play, now returns for a second run at Kivotos Theatre, since 20 September!
A thought provoking satire, with elements of absurd humor, by the multi awarded journalist, writer and poet Dmitri Danilov, in a great performance not to be missed! Read More...
Translation: G.Koutlis
Direction : G.Koutlis
Production: NATIONAL THEATRE OF GREECE
THE ARTBASSADOR has licensed the Greek production, on behalf of the Agency Wiedling Literary Agency, which represents Dmitry Danilov's rights in this play.