Music
THE MAN AND THE NATURE IV
25 May 2018- 25 May 2018
CONCERT OF NEW MUSICIANS ACADEMY OF ATHENS STATE ORCHESTRA AT THE ATHENS CONCERT HALL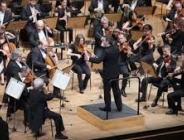 The experienced professional musicians of the Athens State Orchestra together with the talented students of the Academy of Young Musicians, presented the epic Alpine Symphony by Richard Strauss.
An intense and experimental symphony which explores the relationship of Man with the Nature, sometimes in harmony and sometimes in conflict, under the music direction of Stefanos Tsialis.
The Artbassador provided the Orchestra with the music material of the work, on behalf of the Publishing House C.F. PETERS LTD & CO KG.