Theatre
THE DUMB WAITER by Harold Pinter
An absurd and caustic roleplay through an invisible power system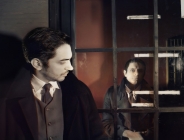 Nikos Paschidis and Nourmala Isty directed the emblematic work "The dumb waiter" in a modern and absolute way. At the Greek stage of the Television Control Center, since January 22nd, every Monday and Tuesday.
In the dark environment of a basement in Birmingham, the two heroes accept the commands of an invisible power system, through an absurd role-playing game of increasing stress.The dumb waiter brings 'orders' to the two killers, who are waiting for their next mission! But the "orders" are continuously growing, in adverse conditions and the communication becomes a very risky case, in and out of the room. Now, the distinction between the actual hit-man and the victim becomes very difficult.
The dumb waiter, is considered as one of Harold Pinter's best works and is presented on the Greek stage, translated by Nikos Pashidis and Xanthi Kranidis, starring Kostis Boudas and Thanasis Isidoros.
THE ARTBASSADOR has licensed the Greek production, on behalf of F PINTER Limited, c/o Judy Daish Associates Ltd (www.judydaish.com) which represents the author's Harold Pinter's rights.