Theatre
LE VISITEUR by Eric-Emmanuel Schmitt
At Michael Cacoyiannis Foundation, since 1 February!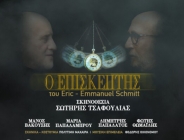 Shortly after Hitler invaded Austria in 1938, Sigmund Freud is alone and desperate, worrying about the fate of his daughter Anna, arrested by the Gestapo. When suddenly a mysterious visitor, a stranger enters through his window!
Who is he? A madman? A projection of his unconscious? Or is he really, as he claims, God in person? Like Freud himself, each of us will have to decide!
"Le Visiteur", the phenomenal play by the renowned and multi awarded author Éric-Emmanuel Schmitt, is a brilliant philosophical confrontation between 3 MOLIERE AWARDS,1994 faith and pragmatism, realism and idealism.
A delightfully witty allegoric story, with fascinating plot, elegant humor and unexpected twists, in a remarkable performance, not to be missed!
Translation: A.Galeos-S.Tsafoulias
Direction: S. Tsafoulias
Production: Robin 4 Arts
THE ARTBASSADOR has licensed the Greek production, on behalf of the Agency, AGENCE DRAMA Suzanne Sarquier which represents Éric-Emmanuel Schmitt's rights in this play.