Theatre
THE GLASS MENAGERIE by Tennessee Williams SUMMER TOUR
Τhe timeless masterpiece, travels throughout Greece, since 10 July!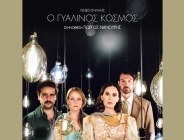 Tennessee Williams's masterpiece "The Glass Menagerie", was presented at the National Theater in 2021, via live streaming, enjoying over 8,000 views. Following its huge success the play was staged at Alkionis Theatre (2022) and now returns with a renewed distribution, starting its journey throughout Greece on July 10th!
Tennessee Williams' most deeply personal and haunting play, a "work of memory" as he considered the Glass Menagerie, premiered on Broadway (1945) and won the New York Drama Critics' Circle Award , establishing the leading playwright as one of the greatest American playwrights of the 20th century.
A masterpiece poetic drama, which remains one of the most famous plays of the modern theatre.
Translation : Stelios Vafeas
Direction : Giorgos Nanouris
Production : TAGARIS THEATRE COMPANY
Starring : Katia Dandoulaki, Lena Papaligoura, Konstantinos Bibis, Giannis Kakourakis
THE ARTBASSADOR has licensed the Greek production, on behalf of THE UNIVERSITY OF THE SOUTH, which represents Tennessee Williams author's rights, c/o CASAROTTO RAMSAY & ASSOCIATES.