Theatre
THINGS I KNOW TO BE TRUE by Andrew Bovell
In Panhellenic premiere, at Mousouri Theatre since 21 October!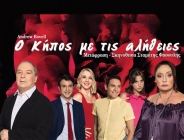 A deeply moving, intimate drama about a family and a marriage through the eyes of four grown siblings struggling to define themselves beyond their parents' love and expectations. A powerful story about family, parenting, identity and love in many of its forms...
"Things I Know To Be True", by the awarded Australian playwright Andrew Bovell, had its world premiere in Australia (2016), thrilling audiences and critics. Following a hugely successful 2016 Australia and UK tour, the play enjoyed a great production in London and in 2019 made its debut in the United States.
Tender, physical and deeply relatable –The Guardian
Translation : Stamatis Fasoulis
Direction : Stamatis Fasoulis
Producer : Karolos Pavlakis
Starring : Stamatis Fasoulis, Mirka Papakonstantinou, Matina Nikolaou, Ioannis Athanasopoulos, Panagiotis Gavrelas, Vicky Diamantopoulou
THE ARTBASSADOR has licensed the Greek production, on behalf of the BLUE RAINCOAT PRODUCTIONS PTY LTD, playwright ΑΝDREW BOVELL and their Agency HLA MANAGEMENT PTY LTD.