Theatre
THE ICEMAN COMETH by Eugene O' Neill
At Proskinio Theatre, since 22 February!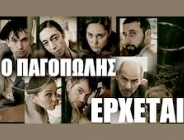 Harry Hope's Saloon is a bar full of dreamers and life's failures. They barely exist, endlessly discuss without acting on their dreams and live on the belief that their desire for a better future is a perpetual chimera. But one day, Hickey, a travelling salesman, walks in determined to make them face reality, putting their illusory dreams aside.
Widely considered as as one of the greatest plays in American drama, Eugene O'Neill's 1939 play "The Iceman Cometh", was first staged at the Martin Beck Theater, N.York, in October 1946, earning huge recognition.
An iconic masterpiece, which explores the despairing human need for illusion in a cruel world of dark realism, from one of the 20th century's most significant writers!
Τranslation: A. Galeos
Direction: A. Karazisis
Production: TAGARIS THEATRE COMPANY
THE ARTBASSADOR has licensed the Greek production, on behalf of YALE UNIVERSITY, which represents Eugene O' Neill author's rights, c/o UNITED TALENT AGENCY and on behalf of the translator Adonis Galeos.