Theatre
LE PÈRE by Florian Zeller
At Sychrono Theatrο, since 18 November!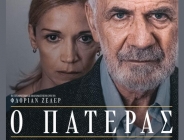 Images and faces from the past flood in the daily life of 80-year-old Andre, who suffers from dementia, confusing his mind and severely testing the limits of patience and relationships within his family.
Compelling and profoundly moving "Le Père ", by the acclaimed French creator Florian Zeller, premiered in 2012 at the Théâtre Hébertot, Paris, starring Robert Hirsch and Isabelle Gélinas and honored with the 2014 Molière for Best play, Best actor for R.Hirsch and Best actress for I.Gélinas.
Presented in London's West End to critical acclaim and elected as the best play of the decade, in 2014 by the Times UK, the play won several awards and nominations in Paris, London and N. York and enjoyed notable productions in more than 45 countries worldwide, becoming one of the greatest hits of recent years.
The 2020 film adaptation, by Florian Zeller and Christopher Hampton, directed by Zeller and starring Anthony Hopkins and Olivia Colman, received six nominations at the 93rd Academy Awards, winning the Academy Award for Best Adapted Screenplay, while Hopkins won the Academy Award for Best Actor.
A powerful, realistic family story and one of the most genius, dramatic portraits of the cruel world of spiritual weakening.
Translation: G. Chatzinikolaou
Direction: E. Skoti
Production: NEO SYCHRONO THEATRO
THE ARTBASSADOR has licensed the Greek production, on behalf of the French Agency ''AGENCE DRAMA Suzanne Sarquier'', which represents Florian Zeller's rights in this play.