Theatre
Ray Cooney is directing the revival of his play "TWO INTO ONE" in London on 19 March, 2014
The English playwright and actor farce legend 82 year-old Ray Cooney is directing a revival of his play "TWO INTO ONE", which opens at the Menier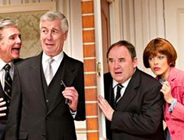 The English playwright and actor farce legend 82 year-old Ray Cooney is directing a revival of his play "TWO INTO ONE", which opens at the Menier Chocolate Factory in London on 19 March, 2014. Ray Cooney also appears in the play as a waiter.
About the plot: If you are a Cabinet Minister in the government it is not easy to arrange to spend a night in a London hotel with a young lady. The problem is not so much that the Minister and the young lady are both married (not to each other obviously!) but that the young lady is the personal secretary to the Leader of the Opposition.
Richard (the Cabinet Minister) makes the mistake of enlisting the assistance of his own secretary (George). Before the end of the evening George's intervention has resulted in the Richard's wife and the young lady's husband turning up at the hotel. Add to this a wily waiter, a suspicious hotel manager and a puritanical Member of Parliament and you have all the ingredients of a Cooney comedy which made it the hit of the year both in London and Paris.
In one of his latest interviews on the occasion of this project, the writer considers "TWO INTO ONE" as "the most difficult of his plays, with a crazy set and six different settings, including two conjoining hotel suites. Actors have to do a lot of business. It's a killer in the nicest way..."
Ray Cooney reveals:
"The key thing is to have good actors and to play it for real, because you want the audience to relate to the drama. The key to farce acting is not to play it as a farce.
…People need to laugh. When people are in a deep depression, the thing that goes from them is the ability to laugh. Laughter is a wonderful fillip. And that's why the theatre will never die…
I m' not entirely sure whether I've got another farce in me. I think I might stick with revivals, unless I get struck by a terrific idea. But who knows? I think Ben Travers wrote one when he was 90, so it would be silly to totally dismiss the thought."
RAY COONEY (http://www.raycooneyplays.plus.com/plays.htm#tio) is represented by THE ARTBASSADOR in Greece and Cyprus.
More about Ray Cooney's interview see here