Theatre
DEATH OF A SALESMAN
A very successful performance of the National Theatre directed by Stamatis Fasoulis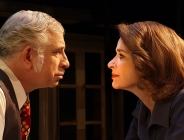 Our National Theatre presented, with great success, at its Main Stage, during the period 24/3 – 29/5/2016, one of the masterpieces of American theatre and perhaps the most pertinent criticism on the futility of the American Dream, under the direction and translation of Stamatis Fasoulis. Starring Petros Filippidis, Peggy Stathakopoulou, Alexandros Logothetis, Charis Tzortzakis, Dimitris Kitsos, Nektaria Gianoudakis.

Death of a Salesman recounts the last days of Willy Loman's life, a man who spent more than three decades in sales and now in his 60s, he sees his earnings and his mental equilibrium collapse. The 34-year old son Biff is unemployed and does not have many options. His devoted wife Linda supports him unconditionally, but the constant encouragement cannot keep him in reality. In this way, Willy is still haunted by the past, while the dreams for happier days and the missed opportunities constantly disturb him as he struggles to understand the present.

THE ARTBASSADOR has licensed the greek production, with great delight, on behalf of Arthur Miller's right-owners and their US Agent ICM PARTNERS.