Theatre
DEATH OF A SALESMAN by Arthur Miller
The powerful tragedy of an American dreamer!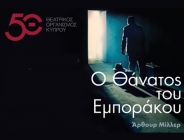 One of the most iconic plays of the 20th century, Arthur Miller's classic masterpiece ''Death of a salesman'', is being presented by the Cyprus Τheatre Οrganization, THOC THEATRE, Main Stage since 5 March 2021, under the direction of Neoklis Neokleous.
Premiered on Broadway in 1949 and awarded with the Pulitzer Prize For Drama and Tony Award for Best Play, ''Death of a salesman'' has been recognized as a milestone of American theatre and continues to strike a chord with audiences around the world, remaining as relevant as ever, even after 70 years.
Arthur Miller once said that "Death of a Salesman" was a "tragedy of the common man". Willy Loman is the ultimate common man. Although he clocked endless miles on the road in his career as a travelling salesman, his hard work never rewarded him with the wealth and respect he dreamt of. As retirement draws near, his eldest son refuses to follow the path Willy has planned for him. Buried secrets from the past come to light and Willy's pursuit of the American dream begins to fade. Refusing to accept reality, Willy turns to his delusions, dreaming of an idealized past, in a desperate attempt to make sense of a world that once promised so much.
Starring: George Mouaimis, Despina Violari, Niki Dragoumi, Andreas Koutsoftas, Panos Loukaidis, Lea Maleni, Alexandros Martidis, Vasilis Michail, Maria Michail, Neoklis Neokleous, Fotis Fotiou, Vasilis Charalabous.
THE ARTBASSADOR has licensed the Greek production on behalf of THE ARTHUR MILLER 2004 LITERARY AND DRAMATIC TRUST which represents Arthur Miller author's rights, c/o ICM Partners, c/o Samuel French.