Theatre
MORTE ACCIDENTALE DI UN ANARCHICO by Dario Fo THIRD RUN
At Gloria Theatre, since 1 November!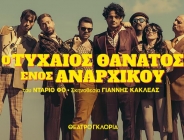 Following two criticaly acclaimed, sold out theatrical seasons and an absolutely succesful summer tour throughout Greece, Dario Fo's acclaimed political farce "Accidental Death of an Anarchist'', one of the greatest and most controversial works ever been staged, is back again! Read more...
The absolute smash hit production returns for a third run, since 1 November!
A sharp, breathtaking political farce in a storming performance, not to be missed!
Direction : Giannis Kakleas
Production : TEXNIXOROS
THE ARTBASSADOR has licensed the Greek production, on behalf of the Italian Collecting Society SIAE , which represents the rights of Dario Fo, Franca Rame and Jacopo Fo in this play.