Music
The Athens State Orchestra's Christmas Concerts
17 December 2016- 18 December 2016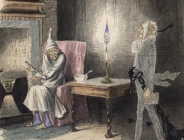 With melodies to remember, the Athens State Orchestra celebrated Christmas on 17 and 18 December at the Ch. Lambrakis venue of the Athens Concert Hall.
With the generous support of the German Embassy in Athens works by german composers were executed by the Orchestra which was conducted by the maestro Nikos Haliassas, including Hans Pfitzner's work DAS CHRIST-ELFLEIN OP. 20 OVERTURE FOR ORCHESTRA
The "Christmas Spirit" was awakened with Gerasimos Gennatas narration of classic German Christmas tales.
THE ARTBASSADOR provided the Orchestra with the music material of the work on behalf of the music publisher BOOSEY & HAWKES UK.