Theatre
LES DIABOLIQUES by Henri-Georges Clouzot
A masterpiece thriller that even Hitchcock envied!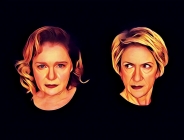 Based on the Henri-Georges Clouzot's masterpiece "LES DIABOLIQUES" (1955), a film directed and written by Henri-Georges Clouzot, also written by Jean Clouzot, adapted from the Novel of Boileau and Narcejac "Celle qui n'était plus", is transferred to the stage of Tzeni Karezi Theatre since 14 February, in a performance full of tension and unexpected turnovers.
Under the direction by Paris Mexis and the theatrical adaptation by Sara Ganotis and Nikos Stavrakoudis, the audience will enjoy a subversive game of death for three!
A private school at the suburbs of Paris in the early 1950s. The deceived wife and the betrayed mistress, join their forces in an attempt to kill the tyrannical husband – lover, trying to make it look as the perfect crime. But, it finally turns out into a nightmare without end. In the starring roles, the marvelous Maria Kavogianni and Kaiti Constantinou, accompanied by Nikos Arvanitis, Sotiris Tsakomidis, Dimitris Liolios and Michalis Prospathopoulos.
THE ARTBASSADOR has licensed the Greek production of the theatrical adaptation of the French movie LES DIABOLIQUES, on behalf of "Cine Patrimoine Concept" (www.clouzot.org/cpc)