Theatre
LES BONNES by Jean Genet
At Apothiki Theatre, since 24 November!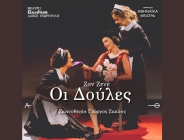 Trapped in a life they cannot stand, two sisters, live-in maids to a wealthy woman, try to escape from their bleak reality through a dangerous role-playing game. But as their role-play intensifies, fantasy and reality are getting mixed and their games become more daring, more cruel and more dangerous, with a fatal ending.
"Les Bonnes", the masterpiece play, by the great French dramatist Jean Genet, premiered in 1947 at the Théâtre de l'Athénée, Paris, causing a great sensation. Remaining Genet's most famous and produced work until today, this compelling play established him as an outstanding figure in the Theatre of the Absurd.
A dark, tense, captivating thriller about power, identity and the darkest of desires lurking beneath the surface, which keeps audiences on edge and hooked untill the very last minute!
Τranslation: D.Dimitriadis
Direction: G.Skevas
Production: ATHINAIKA THEATRA
THE ARTBASSADOR has licensed the Greek production, on behalf of the French Collecting Society SACD, which represents Jean Genet's right owners.