Theatre
LOS VECINOS DE ARRIBA by Cesc Gay
In Panhellenic premiere, at Peiraios Theatre since 1 April!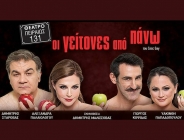 A married couple, whose long-standing relationship is trapped in a terrible monotony, invites their upstairs neighbors, a liberal and lively couple, to dinner. But what starts as a friendly dinner very quickly turns into an evening full of surprises, while an unusual proposal will overturn everything...
"Without a doubt, one of the greatest and most ambitious adventures that any of us can experience in this life is living as a couple." - Cesc Gay
The play premiered in 2016, at the Teatre Romea, Barcelona, becoming the great theatrical event of the season. Later it was adapted, by Cesc Gay himself, into the 2020 film "Sentimental" (The people upstairs) and was nominated for 5 Goya awards! A fresh, smart comedy, with caustic humor, twists and confrontations, dedicated to the complexities of modern day relationships.
Τranslation : Manina Zoumpoulaki
Direction : Dimitris Malissovas
Production : Kappa Sigma Productions
Starring : Alexandra Palaiologou, Dimitris Starovas, Giorgos Kopsidas, Yakinthi Papadopoulou
THE ARTBASSADOR has licensed the Greek production, on behalf of the copyright owner Produccions Artistiques Elefant SL, which represents the playwright Cesc Gay.