Theatre
LOS VECINOS DE ARRIBA by Cesc Gay SUMMER TOUR
The successful comedy travels throughout Greece, since 1 July!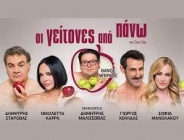 Following its huge success during the spring Theatrical season, the Athens' sold out performance goes on summer tour throughout Greece, with renewed cast and high spirits!
The play premiered in 2016, at the Teatre Romea, Barcelona, becoming an instant hit. Later it was adapted, by Cesc Gay himself, into the 2020 film "Sentimental" (The people upstairs) and was nominated for 5 Goya awards! A genius comedy, with caustic humor and unexpected twists, dedicated to the married couples and the issues...of long-standing relationships.
"Without a doubt, one of the greatest and most ambitious adventures that any of us can experience in this life is living as a couple." -Cesc Gay
Τranslation : Manina Zoumpoulaki
Direction : Dimitris Malissovas
Production : Kappa Sigma Productions
Starring : Dimitris Starovas, Nikoletta Karra, Giorgos Kopsidas, Sofia Manolakou, Thanos Birkos
THE ARTBASSADOR has licensed the Greek production, on behalf of the copyright owner Produccions Artistiques Elefant SL, which represents the playwright Cesc Gay.