Theatre
IDIOTERNE by Lars von Trier
In Panhellenic premiere, at Vault Theatre since 4 April!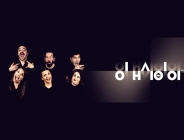 A group of young intellectuals, share one interest: idiocy. They spend all their spare time together, behaving in public as if they were developmentally disabled in order to explore their "inner idiot" and challenge bourgeois ideology, by transcending their personal limits...
A powerful, thought provoking work, based on the highly controversial film 'Idioterne' (1998), by the world known Danish Screenwriter and film director Lars Von Trier, in a daring performance we absolutely need to see!
Αdaptation-Direction : Vaggelis Laskaris
Production : ProvaT.O. Athens
Starring : Dimitris Dimakis, Vasiliki Drakopoulou, Iris Katsoula, Eleni Kondi, Nicolas Papaioannou, Tasos Tziviskos
THE ARTBASSADOR has licensed the Greel production, on behalf of the Agency NORDISKA APS, which represents the creator Lars Von Trier.