Theatre
BUTTERFLIES ARE FREE by Leonard Gershe SUMMER TOUR 2021
25 June 2021- 17 September 2021
Α heartwarming, smart comedy about the power of love and the pursuit of happiness!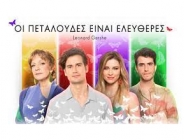 ''Butterflies Are Free'', the Tony awarded play by the American playwright Leonard Gershe, produced by "EROFILI PRODUCTIONS", translated and directed by Reina Eskenazy, travels throughout Greece, since 25 June. A smart and deeply moving comedy, in an absolutely sensational performance with Pemi Zouni, Anastasis Roilos, Erietta Manouri and Konstantinos Elmatzioglou in the starring roles, which promises the audience an unforgettable theatrical experience.
Gershe's wonderful play debuted in 1969 at the Booth Theater in New York City, directed by Milton Katselas and became an immediate hit. Presented for three full seasons and running for more than 1100 performances, ''Butterflies Are Free'' became one of the most successful plays in Broadway history.
"A charming play... humorous, winning and quietly moving." - The New York Post

New York, late 60s. Young Don Baker, a charming, talented songwriter has been blind since birth, with his overprotective mother following his every move. He finally decides to leave his sheltered life behind and move to his own apartment in Manhattan, pursuing his songwriting ambitions. He will meet Jill, an eccentric, aspiring, sexy actress who lives next door. They become friends and very quickly fall for each other, enjoying their freedom and an ideal relationship… Everything seems to be perfect until one day, Mrs. Baker suddenly visits Don and meets Jill… Will they succeed in protecting their independence and remain free like the butterflies?
THE ARTBASSADOR has licensed the Greek production, on behalf of the Estate of Leonard Gershe, c/o THE LAW OFFICES OF RICHARD GARMISE, PLLC, USA.