Theatre
LΕS PARENTS TERRIBLES by Jean Cocteau
At Radar Theatre, since 9 December!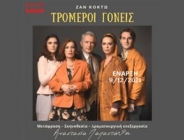 A neurotic, overly possessive mother, Yvonne, finds out her son, Michel, has intentions to marry the charming Madeleine, the woman with whom George, Michel's father, has been having an affair... The shocking news threatens to destroy the fragile familial harmony, revealing dark desires and secrets.
Love is a battlefield full of tender cruelty, in Cocteau's ''Les Parents terribles'', an astonishingly witty play, which scandalised 1938s Parisian audiences. An imaginative and haunting portray of familial bonds and the plethora of emotions, lurking within the dangerous game of human obsession.
Translation : Anastasia Papastathi
Direction : Anastasia Papastathi
Production : FUGA THATRE COMPANY
Starring : Christos Efthimiou, Maria Mavromataki, Anastasia Papastathi, Antonis Karathanasopoulos, Evdokia Aspromalli
THE ARTBASSADOR has licensed the Greek production, on behalf of the French Collecting Society SACD, which represents Jean Cocteau's rights in this play.