Theatre
THE ADDAMS FAMILY – Performances continue! Vembo Theatre
The most bizarre and macabre family and a legendary love story "are hosted" for a second consecutive year at Vembo Theatre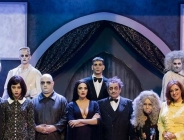 Due to huge success, performances of the musical THE ADDAMS FAMILY continue from 17/10/2016 at VEMBO theatre/ Athens, every Monday and Tuesday.

The most bizarre and macabre family and a legendary love story "are hosted" for a second consecutive year at Vembo Theatre, so that they continue to entertain the Greek public. The darkest dimension of love and family bonds come to amuse and surprise us once again.

ΤΗΕ ΑRTBASSADOR is very happy to have licensed the greek production of the musical on behalf of the US Agent THEATRICAL RIGHTS WORLDWIDE.