Theatre
GLENGARRY GLEN ROSS by David Mamet
At Theatre Anesis, since 5 October!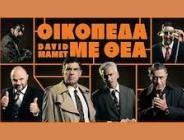 In the middle of a high stakes sales competition, four desperate real estate agents will do anything to seal the deal and stay in the game, chasing their own share of the American dream! Because 'to have' is more important than 'to be'.
Winner! 1983 Olivier Award, Best New Play
Winner! 1984 Pulitzer Prize for Drama
Winner! 1984 New York Drama Critics' Circle, Best American Play
Winner! 2005 Tony® Award, Best Revival of a Play
Widely considered one of David Mamet's greatest works, "Glengarry Glen Ross" has won accolades across the board, been featured in the National Theatre of London (1983), later on Broadway and also became the 1992 celebrated film, starring Al Pacino, Alec Baldwin, Jack Lemmon, Alan Arkin, Ed Harris and Kevin Spacey.
A challenging, thought-provoking play, by one of the century's leading American playwrights.
Direction : N.Chaniotakis
Translation : A. Galeos
Production : HAPPY PRODUCTIONS
THE ARTBASSADOR has licensed the Greek production, on behalf of the Agency A3 ARTISTS AGENCY, which represents David Mamet's rights in this play.