Theatre
"ON EGO" by Mick Gordon
At Apomichanis Theatre, since 1 October! Second run!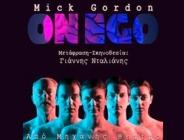 An extreme scientific experiment with unpredictable consequences, peers into the human mind, exploring the phenomenon that we call our sense of self. In the end, is it just a creation of our mind? Are we simply a collection of cells or feeling, loving, thinking individuals?
Based on neuropsychologist Paul Broks's first book, "Into the Silent Land", Mick Gordon's 2005 play "On Ego" premiered at Soho Theatre, London, causing a great sensation. A poetic journey into the mysteries of brain and soul in a fascinating performance, we absolutely need to enjoy!
Translation : G. Dalianis
Direction : G. Dalianis
Production : ZERO GRAVITY
Starring : G. Kapeleris, A. Aidini, Th. Vlavianos, G. Korobilis, Ch. Dai
THE ARTBASSADOR has licensed the Greek production on behalf of the Agency UNITED AGENTS LLP, which represents the playwright Mick Gordon in thiw play.