Music
OPEN DAY MAY '68
04 March 2018- 04 March 2018
CENTRAL STAGE OF ONASSIS CULTURAL CENTRE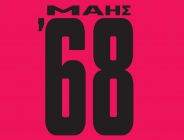 Open Day Festival taking place each year at the OCC, is always open for the public and visitors can freely move around the building and choose the events they wish to attend to.
The theme of this year's 6th Open Day, was the fifty-year anniversary of May '68 with the new social and political ideas of that period which began at the end of 50s and lasted until the early 70s.
On the 4th March, at the Central Stage of Onassis Cultural Centre a concert took place, under the music direction of Andreas Levisianos, with the music work KRAANERG (1969) by Iannis Xenakis.
The Artbassador provided the Orchestra with the music material of the work, on behalf of the Publishing House BOOSEY & HAWKES LTD.