Music
WORLD MUSIC DAY
21 June 2023
THE GREEK RADIO SYMPHONY ORCHESTRA AT HERODES ATTICUS ODEON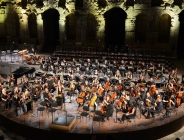 Once again, the Greek Radio Symphony Orchestra and the Athens Epidaurus Festival celebrate the World Music Day, presenting a marvelous concert at the Herodes Atticus Odeon!
Under the music direction of the French-Greek conductor Dionysios Dervis-Bournias, the Orchestra, accompanied by the world-class piano soloists Katia and Marielle Labèque and the baritone Dionysios Sourbis, will perform the following works:
-Camille Saint-Saëns (1835-1921): Le Carnaval des animaux
-Thierry Pécou (1965-) / Dionysis Savvopoulos (1944-): Zeibekiko
-Georges Bizet (1838-1875): Carmen, Suites No. 1 & No. 2
THE ARTBASSADOR provided the Orchestra with the music material of the works, Carmen Suites No. 1 & No. 2, by Georges Bizet, on behalf of the Publishing House Breitkopf & Härtel KG.