Theatre
TOYS IN THE ATTIC by Lillian Hellman
In Panhellenic premiere, at Chytirio Theatre since 23 February!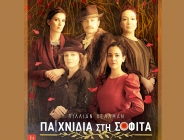 A deeply revealing, intimate drama about a disfunctional family, through the possessive, peculiar love-hate relationship between two unmarried sisters, Carrie and Anna, and their younger brother Julian.
"Toys in the Attic", a semi-autobiographical play, by Lillian Hellman, one of Broadway's most successful playwrights, opened on Broadway, at the Hudson Theatre (1960), enjoying an absolute sold out run and won the New York Drama Critics' Circle Award for Best Play (1960).
A compelling work about the obsessions and dangerous delusions which distort family relationships, leading to a chaotic path with disastrous consequences, in an absolute must see performance!
Translation : Alexandros Koen
Direction : Alexandros Koen
Production : Vasia Panagopoulou
Starring : Marianna Kimouli, Georgia Mavrogeorgi, Theodora Siarkou, Julie Souma, Solon Tsounis
THE ARTBASSADOR has licensed the Greek production, on behalf of the The Hellman Trust, right owner of Lillian Hellman's copyright, c/o Creative Artist Agency.