Theatre
PIPPI LONGSTOCKING by Astrid Lindgren
A crazy musical-theatrical performance with great set and costumes! Since 15 October 2017 in Panhellenic premiere,at ATHINAION Theatre of Thessaloniki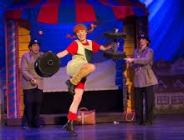 The Theatre tou Vorra and TheatrAction join their forces and present for the first time in Greece, the adorable Pippi Longstocking, in its theatrical adaptation.
Pipi with her freckles and red hair, a horse, a small monkey called Mr. Nilson and a suitcase full of coins, is moving to our neighborhood, Villa Vilecula and goes from one adventure to the other! Pippi, with her imaginative stories, spends her day getting into troubles with her neighbors and nothing stops her. A girl with incredible power, bravery and independence who fears nothing and no one! With her neighbor friends Annika and Tommy, Pippi follows her unique perspective of life, which can never be boring and gains the love of all, by transferring us to a world without rules where everything can happen and will happen!
The direction is made by Despina Saroglou, the translation by Vangelis Dalles, the original text and lyrics by Astrid Lindgren, in music by Georg Riedel and Jan Johansson. Cast: Stellina Voyatzi, Sissy Damdoumi, Vangelis-Rafael Kallitsoglou, Angeliki Costaki, Marilena Pistendi and Giannis Tsiakmakis.
THE ARTBASSADOR has licensed the Greek production of the theatrical adaptation of the work, on behalf of NORDISKA ApS International Performing Rights Agency (http://nordiska.dk/en/)