Theatre
WHO'S AFRAID OF VIRGINIA WOOLF? by Edward Albee
At Sofouli Theatre-Thessaloniki, since 4 November! Second run!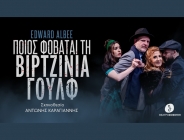 Who's afraid of the big bad wolf…who's afraid of living without illusions? That's the core query in Edward Albee's iconic classic play, which premiered in 1962, in Broadway, causing a stir and honored with the 1962 Tony Award and New York Drama Critics' Circle Award for Best Play.
A revolutionary work which placed Edward Albee in the pantheon of great American dramatists! Read more....

Direction : Antonis Karagiannis
Production : SOFOULI THEATRE
Starring : Paulina Harela, Critonas Zachariadis, Alexandros Kotsifas, Chrysoula Μpougioukli
THE ARTBASSADOR has licensed the Greek production of the play, on behalf of the ESTATE OF EDWARD ALBEE, right owner of Edward Albee's copyright, c/o WILLIAM MORRIS ENDEAVOR.