Theatre
POMONA by Alistair McDowall
At Porta Theatre, since 24 November!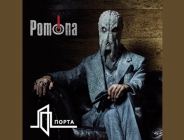 Searching desperately for her missing sister in Manchester, Ollie finds that all roads lead to Pomona, an abandoned concrete island in the heart of the city, where all nightmares are born…
"Pomona", an outstanding surreal thriller, by Alistair McDowall made its debut at the Orange Tree Theatre in Richmond, becoming an instant hit! Following its acclaimed success, the production was transferred to the National Theatre, London and the Royal Exchange Theatre in 2015.
"A surreal tale of urban myths and nightmares; "Pomona is fantastic. Astonishingly slippery and dark thriller, a twisted game or fairytale in which monsters are all too real." Lyn Gardner, Guardian Top 10 Theatre of 2014
Translation: Thomas Moschopoulos
Direction: Sigurdur F3-Thomas Moschopoulos
Production: Porta Theatre
ΤΗΕ ARTBASSADOR has licensed the Greek production on behalf of the Agency JUDY DAISH ASSOCIATES LTD, which represents Alistair McDowall's rights in this play.