Theatre
THE COST OF LIVING by Martyna Mayok
At Porta Theatre, since 8 October!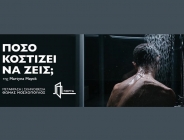 Hailed by The New York Times as "gripping, immensely haunting and exquisitely attuned," this intriguing, deeply human play about life with disability, explores what is the real meaning of living in a cruel world where you are forgotten….Because life isn't easy, no matter what you look like...
"Cost of Living", by Martyna Majok, premiered at the Williamstown Theatre Festival in 2016, next year transferred Off-Broadway, enjoying an acclaimed run and won the 2018 Pulitzer Prize for Drama as well as two Lucille Lortel Awards, including Outstanding Play. Recently, the play received its Broadway premiere, in Samuel J Friedman Theatre.
Translation :Th. Moschopoulos
Direction : Th. Moschopoulos
Production : PORTA THEATRE
H THE ARTBASSADOR has licensed the Greek production, on behalf of the Agency, Creative Artists Agency which represents Martyna Mayok's rights in this play.