Music
POWDER HER FACE
25 October 2019- 09 November 2019
GREEK NATIONAL OPERA-STAVROS NIARCHOS FOUNDATION CULTURAL CENTER / 25,27,31 October & 2,7,9 November 2019.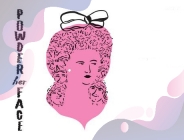 The masterly scandal-based opera Powder her face (1995) by Thomas Adès ,the "enfant terrible" of the British music scene and Grammy and Laurence Olivier award-winner, will receive its Greek premiere at the GNO Alternative Stage.
The work is based on the scandalous life of Margaret Campbell, Duchess of Argyll, who in 1963 shocked the English society with her sexual excesses. The Duchess' true and bold story, her love affairs, passions, divorces and tragic death are wonderfully portrayed in the enrapturing music of charismatic composer Thomas Adès and Philip Hensher's libretto with its peculiar language and provocative love scenes. In his work, the award-winning composer masterfully combines various influences from Igor Stravinsky, Alban Berg and Benjamin Britten with Kurt Weil's cabarets and Astor Piazzola's tangos, creating an opera already considered as a modern classic and performed in the world's leading opera houses.

According to Andes, "the virtuoso of the extremities," as The New Yorker called him, Powder her face is "an opera about a woman who is finally trapped in a world of perfume, fantasy and memory."

In GNO Alternative Stage's great production this masterpiece is performed by the exceptional Ergon Ensemble under the musical direction of arch-conductor Nicolas Vassiliou The theatrical direction is signed by the Artistic Director of the Alternative Stage of GNO Alexandros Efklidis.
The Artbassador provided the Orchestra with the music material of the work, on behalf of the Publishing House FABER MUSIC UK.