Music
AΝ OFFERING OF MUSIC & A MUSICAL OFFERING
LEONIDAS KAVAKOS CONDUCTS THE ATHENS STATE ORCHESTRA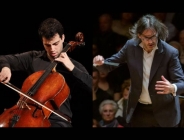 Appearances by Leonidas Kavakos all over the world are major musical events. For the sixth consecutive year, he collaborates with the Athens State Orchestra -with which he has old and strong ties- pro bono while the receipts of the concerts are donated to charities.
Under the music direction of the globaly renowned conductor and violinist Leonidas Kavakos, the Orchestra and the Soloist Timotheos Gavriilidis-Petrin, cello, will present the Symphony no. 6, opus 111, by Sergei Prokofiev and Cello Concert in c Major by Joseph Haydn in two unique concerts, in Patras and Athens Concert Hall, on 25 and 28 November.
THE ARTBASSADOR provided the Orchestra with the music material of the work of Sergei Prokofiev "Symphony no. 6, opus 111", on behalf of the Publishing House BOOSEY & HAWKES UK.