Music
NEW YEAR'S GALA -MUSICAL
29 December 2022- 30 December 2022
THE ATHENS STATE ORCHESTRA AT THE ATHENS CONCERT HALL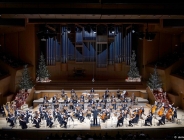 Once again, the Athens State Orchestra, in collaboration with the Athens Concert Hall participates in the New Year celebration, with its annual festive concert, this time dedicated to the musical.
Under the music direction of the conductor Michalis Economou, the Orchestra and the soloists M. Margariti, N. Kontogeorgi, Y. Kalivas and G.Papadimitriou will present songs and marvelous melodies from beloved musicals, which made history on Broadway and West End, promising the most brilliant New Year's Eve!
THE ARTBASSADOR provided the Orchestra with the music material of Cole Porter's works So In Love, Too Darn Hot, Always True To You, from "Kiss Me Kate, of Richard Rodgers & Oscar Hammerstein's works, Entr Acte, Ι Have Confidence, My Favorite Things from "Τhe Sound of Music" and Leonard Bernstein's works Somewhere, Maria, Balcony Scene from "West Side Stor", on behalf of the Publishing House BOOSEY & HAWKES UK.