Theatre
A VIEW FROM THE BRIDGE by Arthur Miller
An emblematic work of the 20th century for the first time at the stage of the Greek National Theatre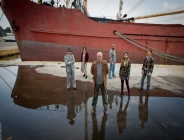 For the first time at the stage of the Greek National Theatre, on 15 February, the award-winning play of the 20th century, in translation by Nikaiti Kontouris and Giorgos Kimoulis and direction – adaptation by Nikaiti Kontouris. The American playwright Arthur Miller sets up a police drama, influenced by the ancient Greek tragedy.
The story carries us to Brooklyn of 50s. Immigrants arrive from all over the world, hunting the American dream. Determined to succeed, are often pushed into extreme behaviors. Eddie Carbonne, an Italian immigrant, who works hard at the port to support his wife and niece. The arrival of his wife's Italian relatives - whom they host at their home - overturns his family's balance and leads them to an uncontrollable situation.
The work was first performed as an one-act play, in Broadway in 1955 and a year later, in adaptation to two-acts by Arthur Miller himself and direction by Peter Brook. Since then, the work has met tremendous success worldwide.
In the starring roles: Giorgos Kimoulis, Maria Kehagioglou, Eliana Mavromati, Nikos Chatzopoulos.
THE ARTBASSADOR has licensed the Greek production, on behalf of THE ARTHUR MILLER 2004 LITERARY AND DRAMATIC TRUST, c/o ICM PARTNERS, c/o SAMUEL FRENCH (http://www.samuelfrench.com/).