Theatre
A VIEW FROM THE BRIDGE by Arthur Miller
At Veaki Theatre, since 28 October!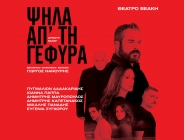 Honor and duty, love and betrayal in 1950s America, through the stirring story of Eddie Carbone, a Brooklyn longshoreman, whose obsession for his niece will lead him to a dark path with disastrous consequences and a tragic end…
This masterpiece work, by Arthur Miller one of the greatest American dramatists of the 20th century, premiered on Broadway (1955), as a one act-verse play. Next year, extended by Miller in a new two-act version, the play made its debut in the West End, directed by P. Brook, earning huge recognition and significant awards.
A timeless classic, which remains as thrilling and passionately devastating as ever!
Translation: G. Nanouris
Direction: G. Nanouris
Production: TAGARIS THEATRE COMPANY
ΤΗΕ ARTBASSADOR has licensed the Greek production on behalf of the The Arthur Miller Literary and Dramatic Property Trust, which represents Arthur Miller's author's rights c/o ICM PARTNERS, c/o CONCORD THEATRICALS CORPORATION.