Theatre
RABBIT HOLE by David Lindsay-Abaire
At 104 Theatre, since 19 November! Panhellenic premiere!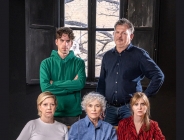 Shattered by the sudden loss of their son and seeing their whole life fall apart, Becca and Howie struggle to survive, searching through the darkest of places a path which will lead them back into the light of hope.
David Lindsay-Abaire's 2007 Pulitzer Prize-winning drama premiered on Broadway at the MTC's Biltmore Theatre in 2006, causing a great sensation. In 2010, the play, adapted by David Lindsay-Abaire, was transferred to the big screen, starring Nicole Kidman.
A deeply affecting and human play, which examines loss and pain with great sensitivity and searing honesty, proving that there is always a way out of darkness!
Translation: Ch.Malakou
Direction: V.Lymperopoulos
Production: PLAY PRODUCTIONS
THE ARTBASSADOR has licensed the Greek production, on behalf of the Real Live Boy Inc, which represents David Lindsay-Abaire's rights in this play, c/o William Morris Endeavor Entertainment Llc. .