Theatre
RAPOUNZEL ALONE by Mike Kenny
At Kappa Theatre, since 23 October!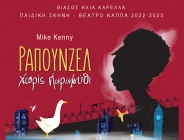 When Lettie, a young mixed race girl from London, is sent to an isolated country farm for her own safety during the daily bombings of WWII, she will face her own battles with a strict new guardian and a very aggressive... goose!
Written by Olivier Award-winning playwright Mike Kenny, this tender anti-war play captures the spirit of the classic fairy tale and brings it into the 20th century, featuring love, hope and acceptance as a response to the increasing human isolation.
A charming play geared for children and adults alike, not to be missed!
Translation: Ch. Giannakopoulou
Direction: I. Karellas
Production: I. Karellas Theater Company
THE ARTBASSADOR has licensed the Greek production, on behalf of the Agency Alan Brodie Representations Ltd, which represents Mike Kenny's rights in this play.