Theatre
RHINOCEROS by Eugène Ionesco
At Kivotos Theatre, since 15 October!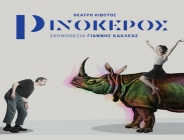 When the inhabitants of a small, provincial French town turn into rhinoceroses; the only human who does not succumb to this mass metamorphosis is Bérenger, a flustered everyman figure, who rises beyond the blindness of the mass, screaming desperately in the end: ''I do not give in. I'll fight. I''ll stay a human being to the end''.
Eugène Ionesco's 1959 absurdist masterpiece "Rhinoceros" is a political allegory which examines the freedom of human and the massive hysteria that collective fanaticism create.Like the abstract artists of the early 20th century, Ionesco abstracts reality to comedic and terrifying effect.
Direction/Translation :Giannis Kakleas
Production : TEXNIXOROS
Starring : Aris Servetalis, Stelios Iakovidis, Rozalia Kiriou, Thanos Birkos, Giorgos Naousis, Aggeliki Trombouki, Kostis Bountas, Anastasia Stylianidi, Anastasia Kelesi.
THE ARTBASSADOR has licensed the Greek production, on behalf of the French Collecting Society SACD, which represents Eugène Ionesco's rights in this play.