Theatre
Eugène Ionesco's "Rhinoceros" at the Athens Festival 2013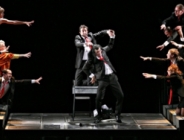 The Ensemble Artistique of Emmanuel Demarcy-Mota presented at the Athens Festival a classic work from the Theatre of the Absurd: Ionesco's "Rhinoceros".
The performance was presented at the Onassis Cultural Centre on June 30th and July 1st 2013.
Licensing for this performance was granted by "The Artbassador" on behalf of creators members of SACD.